Our Purpose
We make children feel beautiful and powerful.
Our mission is to enrich the lives of children with our magical experiences, and the massive impact we make for children's organizations through giving.
"It's never too early or too late to build life-long self-esteem."
A great part of our purpose is to make sure each child can fall asleep to a beautiful handcrafted story featuring themselves as the hero of their own story, and wake up to a portrait that shows how beautiful they are inside and out before starting their day. After all, confidence is the key to success.
We know nothing is more important to you.
OUR FOUNDER'S STORY
Enchanted Fairies was created and founded by Dan Gutier, an international artist hailing from Monterrey, Nuevo Leon Mexico. He is an artist with a passion for creating artwork and experiences that are fully immersive, playful, and long-lasting.

Daniel, his mother and his sisters emigrated together to the US in 1991 with only $12. It was Dan's experiences that informed his perspective about the world. Daniel and his family is committed to donating year after year so children have enough food to eat, a roof over their heads and a safe place to live.

Dan's early work included portraiture, polymer clay, resin, life-casting, and has had his work on display around the world.
Inspired by artists and authors like Frida Kahlo and Gabriel García Márquez that embraced Mexico's rich culture of magical realism, Dan Gutier set out to create an immersive world with Enchanted Fairies that elevated the children's portrait experience while bringing imaginative elements to life.
Dan is heavily involved in the artistic direction of Enchanted Fairies and regularly visits locations across the U.S. looking for ways to enrich the client experience even further.
"I enjoy being at each grand opening for the first two weeks because I get to photograph and be part of something truly magical. It's great to welcome all our new families in that city."

Dan gutier
If you get a chance to be in front of Dan's lens, you know something magical is about to happen.
Dan Gutier, his sister Aileen and his brother-in-law Christopher now run Enchanted Fairies together as a family. As a team, they are centered on their mission to create a massive impact for kids nationwide, both in strengthening children's self-confidence and in donating to charities that work ground-zero to fight hunger, trafficking, and to provide human enrichment experiences to children with life-altering conditions.

A Letter from Aileen
We welcome 2021 with a centered vision to expand our efforts to benefit children's charitable organizations across the US.

When our daughter Alaska was born, she was not able to breathe on her own. She was admitted to the Neonatal Intensive Care Unit (NICU) and the medical team advised us that she may have lifelong problems that could impact her quality of life.

From the day of her birth, our dedication to giving to charities that directly help enrich the lives of children in our community grew tenfold.

When our son Rocket was born, he exhibited similar breathing issues and was also admitted into the NICU.

Both of these experiences allowed my husband Christopher and I to confront the reality of many parents that have children with special needs and life-threatening conditions.

Our children, through the care of their doctors, have both flourished past those heart-wrenching days in the NICU. We feel our gratitude to our creator can best be expressed through our actions and our ability to give monetary donations directly to those organizations that serve children and families in need.

Our mission at Enchanted Fairies is to strengthen children's self-esteem while giving cash donations to charitable organizations that do the work to make our world a better place for children.

We can't wait to change the world with you.

The charitable organizations Enchanted Fairies has partnered with are Kidd's Kids, North Texas Food Bank, Feeding America, Jonathan's Place, BASE Camp Children's Cancer Foundation, Frisco Family Services, Kenya Education Fund, Southwest Autism Research and Resource Center, Reach Out and Read, among others.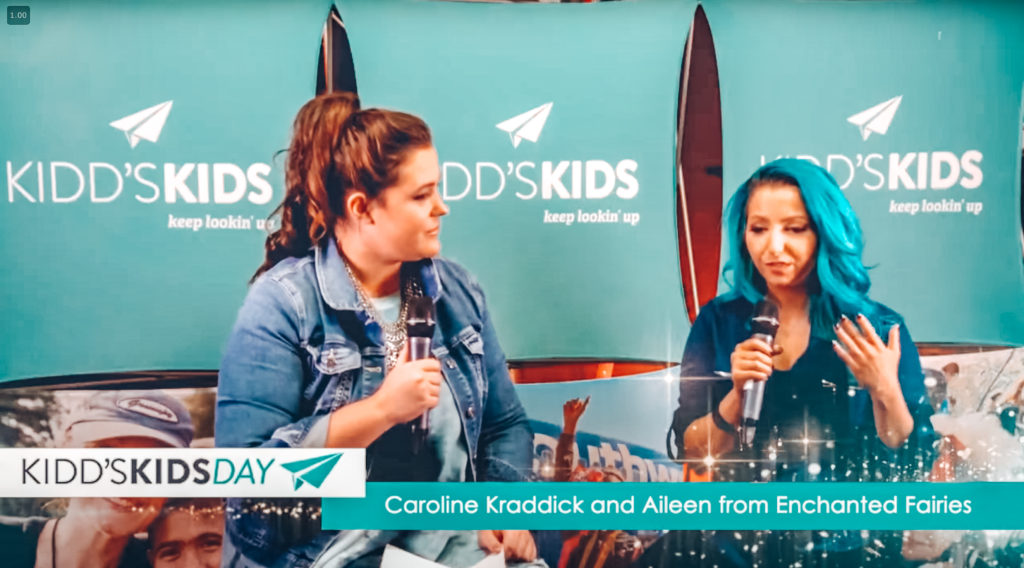 These organizations have focuses like preventing childhood hunger, offering safe havens for abused children, feeding low-income families, rescuing children from sex trafficking, and giving children with life-altering and terminal illnesses an opportunity to get a break from the hospital stays by taking them and their families on a once-in-a-lifetime trip to Disney World.