Enchanted Fairies Portrait
Studio Serving San Antonio, TX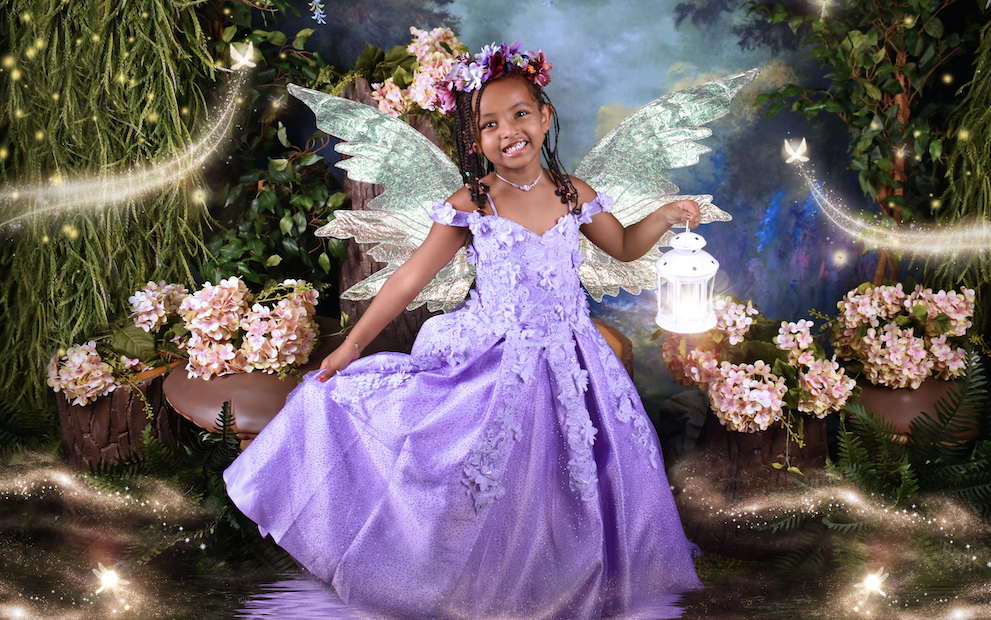 Where Fairy Tales Come True
Enchanted Fairies™ is your child's new favorite can't-stop-talking-about-it experience & storybook fine art portrait studio —all in one magical place.

We make children feel beautiful and powerful.

Enchanted Fairies™ magical photo sessions are immersive, wildly fun, and confidence-building.

Nothing best communicates to your kids how loved, beautiful and confident they are than when they grow up seeing themselves on the walls of their home.

In fact, many studies have linked life-long confidence to growing up with positive visuals of themselves. "It's never too early or too late to build lifelong self-esteem." After all, confidence is the key to success.
Map & Arrival
Located on Casa Blanca St., just north of downtown San Antonio, two blocks from the Pearl Brewery
There is a driveway on the left side of the 100-year-old white house
Park in the back and come to the front door entrance

Know Before You Go

By Appointment Only
Enchanted Fairies™ magical sessions are very popular. Make sure you are on the invite list here to get details on how to secure an appointment.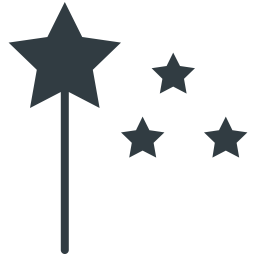 Enchanted Fairies Location Address
217 Casa Blanca St, San Antonio, TX 78215
– tap for GPS –

Parking
Parking is available in the back of the white house. Simply take the driveway on the left all the way back.

Wardrobe Availability
Dress Sizes: Infant to 24W Plus
Knight Sizes: Infant to 16Y
Dress Colors: Ballet Pink, Lilac Purple, Twinkle Blue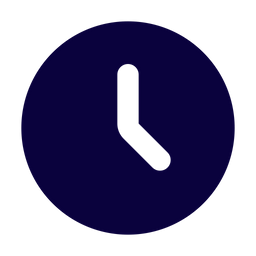 Late Policy
In order to ensure a complete magical session for all guests, we require that our fairies, knights and family arrive no later than 10 minutes past the appointment time.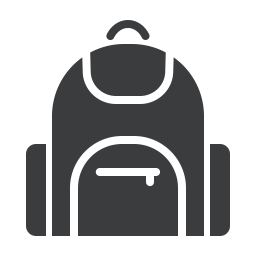 What to Bring
Nothing! We provide dresses and knight wardrobe, floral crowns, tiaras, pixie dust, wings and all that your child will need to make this an immersive and beautiful experience. If you'd like to bring in a special outfit, we would be glad to photograph your child in it in place of our wardrobe! Please make sure hair is styled and ensure your children and yourself arrive as you would like to be photographed.
Wardrobe Selection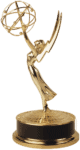 Enchanted Fairies partnered with Emmy Award Winning Celebrity Designer Gina Vincenza to lead the direction for this year's wardrobe. She outfitted Shakira for the Super Bowl Half-Time Show, Taylor Swift, Beyoncé, Lady Gaga, Elton John, Carrie Underwood, and the fairies of Enchanted Fairies. Her creative impact has inspired the dress collection you will be able to select from.
Introducing the all-new Iridescent Collection exclusive to Enchanted Fairies™!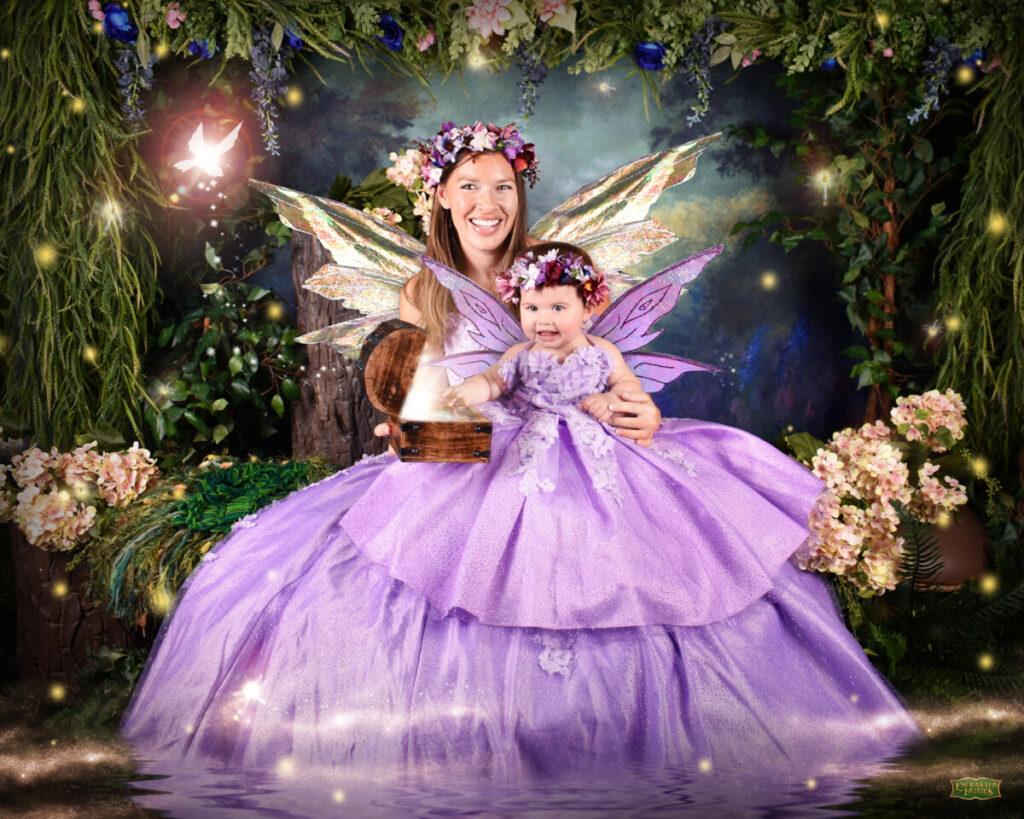 Our wardrobe is not only inclusive to all sizes, it is deep-steamed and sanitized between uses. Your safety is our number one concern.
Enchanted Fairies™ Wings
Your child will feel like a true fairy with access to our dazzling, sparkling wings. They are handmade by the artisans at Enchanted Fairies, and are not sold anywhere.

Featuring beautiful craftsmanship, our crystalline wings can be found at all Enchanted Fairies™ locations.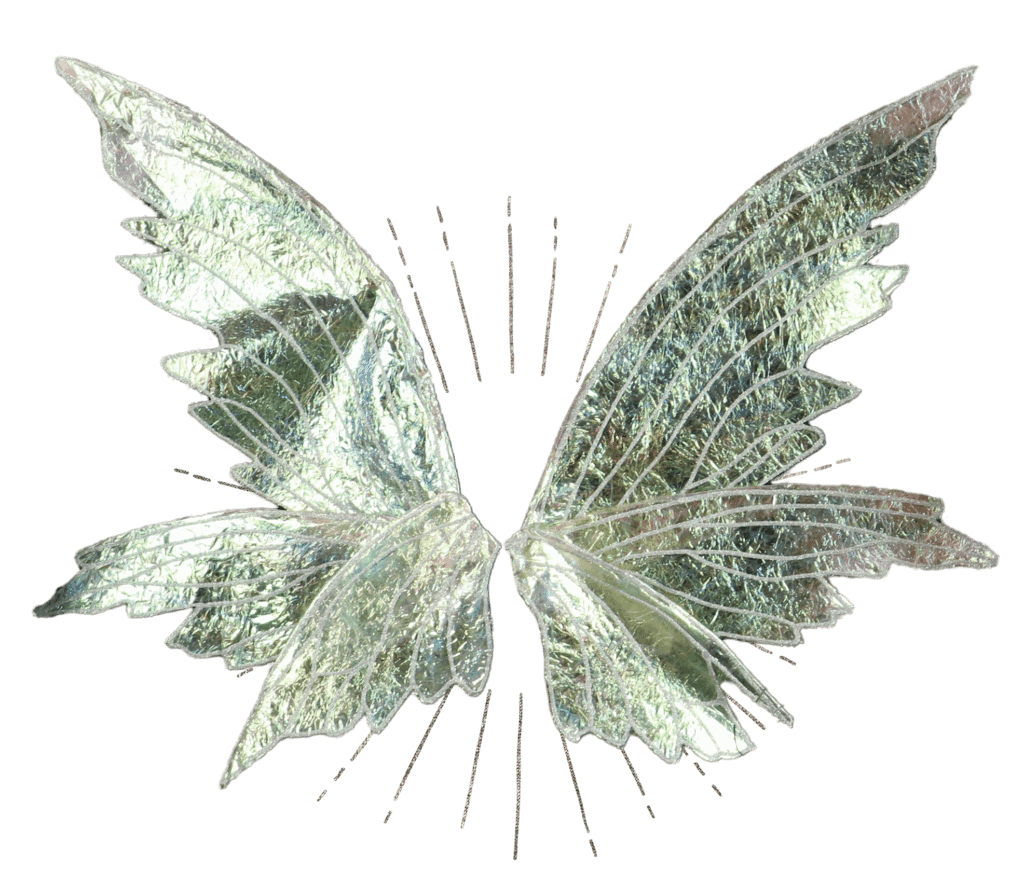 Our Year of Giving
Thanks to parents like you, Enchanted Fairies™ has raised over $2 million to date for Children's charities! Thank you for helping us fulfill our mission to enrich the lives of children across the nation.
Want to learn more about who we support and how we got started? Visit this page

Meet the Artist
Fhatima has a background in patient care.

"I found my calling when I walked in the door and saw the enchanted forest set! I knew I wanted to do this. I get the chance to create great memories for precious little children. I could not ask for a better job. In fact, many times it doesn't feel like a job because I have so much fun smiling and laughing with the little fairies."

Fhatima is from the Philippines and has called San Antonio home for almost a decade now.

Fairy & Knight Galleries